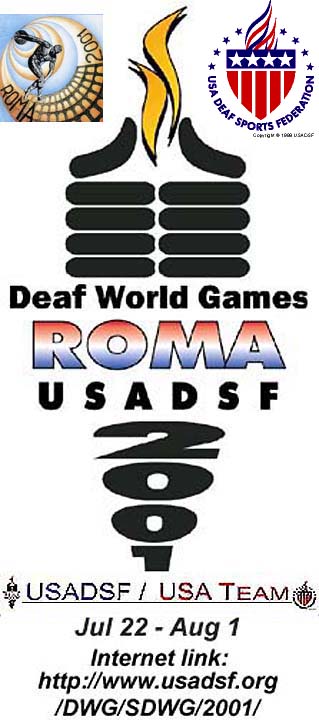 Deaf World Games -- Rome 2001: The international Committee of Sports for the Deaf (CISS) will sponsor the 19th edition of the Deaf World Games, also known as the Deaflympics, in Rome from July 22 through August 1, 2001. Like the Olympics, the Deaf Games are held every four years in cities around the world. There are also winter games for the deaf. The International Olympic Committee recognizes the CISS. Athletes from 71 national federations will compete in athletics, badminton, basketball (men and women), bowling, cycling, football (soccer), handball (men and women) shooting, swimming, table tennis, tennis, water polo, and wrestling at different venues in and around the city. The USA team numbers in the hundreds and they, like athletes representing other countries, will start arriving in mid-July.
For event schedules go to http://www.fiss.it/
For ticket info and ordering, go to http://www.deafbuy.com/tickets/dwg/index.html
For USA team memorabilia, go to http://www.deafbuy.com/apparel.asp
And that's not all: The International Martial Arts Federation of the Deaf will also be holding their 11th world championships in Judo, Karate, Taekwondo and Wushu/Kung Fu in Italy this summer. All events will be held at the Lido di Ostia sports center from 17 - 21 August (right before the Rome Deaflympics). The martial arts web site is at http://www.mclink.it/personal/MD4281/wjktwc_e2001.htm.
Other links:
History of the deaf international sports: http://www.ciss.org/history.html
The USA Deaf Sports Federation: http://www.usadsf.org/